Roofer in Williamsport works to protect homes from harsh weather conditions and wear and tear. They perform repairs and install new roofs for homeowners. They also ensure quality materials are used to keep homes strong and safe.
Hiring a professional roofer can save you money in the long run. They can identify leaks or missing shingles before they worsen, costing you more money to repair.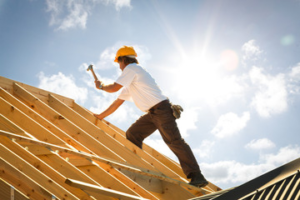 Residential roofers repair and maintain the roofing systems of commercial, industrial and residential buildings. They inspect the structures and assess their needs, provide cost estimates for labor and materials, and perform other roofing-related tasks. They also remove hazards from the roofing area, set up barricades and warning lines, and ensure that all work is performed according to the relevant safety standards. They are knowledgeable about the various types of roofing products and their installation procedures, and can spot minor problems before they turn into major issues.
A good residential roofer will have extensive experience working on a wide variety of roofing types and materials. They will be able to handle all the necessary installation and repair jobs and know how to deal with different weather conditions. Additionally, they will have a solid understanding of local building codes and regulations. It is important for them to be punctual and professional, and they should always keep their tools clean. In addition, they should be comfortable working on ladders and scaffolding.
Besides being skilled at their craft, residential roofers should be committed to the success of their company. This means that they should take every opportunity to learn more and advance their skillsets. Those who are not willing to do this may find themselves at a disadvantage in the industry.
Another thing to consider when hiring a roofing contractor is whether they are registered as a business. A registered roofer will be licensed and insured and can offer a warranty for their work. This will give homeowners peace of mind that their roof is installed properly and will last for a long time.
While there are many ways to find a reputable roofer, referrals from friends and family are the best way to go. A reputable residential roofer will have references that can be contacted, as well as an online presence. You can check out their reviews on Google Maps, Yelp, and Home Advisor.
Roofers should have a strong desire to improve their performance and be willing to learn new techniques. They should also be dedicated to the safety of themselves and their team members. If a roofer is not serious about safety, you should look for another option.
Residential roofers are licensed by state governments to ensure that they have the knowledge and skills required for their work. This process often involves passing a trade exam, and some states also require insurance, which provides homeowners with peace of mind that their roof will be installed or repaired properly. In addition, most residential roofers must meet national safety standards to protect themselves from falls and other injuries.
In order to become a residential roofer, you must complete a training course and pass a state-verified roofing contractor's test. In addition, some states require you to have liability insurance and workers' compensation coverage. Liability insurance protects homeowners from financial damage, and workers' comp covers accidents that occur on the job. These requirements vary from state to state, so make sure you research your local laws to find out what you need to do to get licensed.
A good residential roofer will be able to spot leaks and other problems in your home's roof and make repairs accordingly. They can also provide you with advice on how to maintain your roof to ensure that it will last a long time and keep your family safe from the elements.
If you're looking for a residential roofer, it's best to choose one that is licensed and has a great reputation in your area. You can check their credentials by contacting the licensing department of your city or county and asking about the qualifications that are needed to obtain a license. You can also contact the Department of State to verify that a roofer is licensed in the state
The roof of a home is one of its most important components, protecting the structure and occupants from harsh weather conditions and wear and tear. A quality roof will protect the house from storms and inclement weather, and can help reduce energy costs by insulating the interior of the house. A residential roofer will be able to repair and install a variety of types of roofs, including asphalt shingles and tile roofs.
The most common way to find a good residential roofer is by getting recommendations from friends and neighbors. You should also ask for references from previous clients to see what kind of work they've done. If possible, try to find a roofer that is located nearby, as this will ensure that they are available quickly in case of an emergency.
Residential roofers are insured to protect themselves and homeowners from liability. This insurance includes workers' compensation and general liability policies. Roofing work poses injury risks, and roofers must follow national safety standards to reduce the risk of accidents. These professionals also perform precision work and communicate with homeowners to discuss project details and address homeowner concerns.
While hiring a roofer, be sure to check their insurance policy before signing any contract. Usually, a roofing contractor's website will display their insurance information. If the information is not available online, you can call their insurance broker and ask for verification of their policy's validity. In addition to checking the policy, it is also a good idea to verify their certifications and licensing. This will help you avoid a scam by ensuring that the contractor has the proper credentials and experience to do the job.
In many states, roofers must carry workers' compensation insurance to cover medical expenses and disability payments if they are injured on the job. If a worker is killed, the employer must pay death benefits to the victim's family. In some cases, employers may be able to pay into a state-run workers' compensation program instead of purchasing private coverage.
Besides workers' compensation, residential roofers should have a general liability policy that covers damage to property and bodily injury to third parties. This type of insurance is crucial for residential roofers, as it can provide protection from costly damages caused by accidents during a roofing project. It also helps protect roofers from lawsuits for libel, slander and other reputational issues.
Residential roofers should also have commercial auto insurance, which provides liability coverage for vehicles used for business purposes. This type of insurance is important because personal automobile insurance does not cover damage caused by work-related activities. Roofers often use vehicles to transport materials and tools, and personal vehicle insurance does not provide adequate coverage.
Moreover, commercial roofers need to buy a tool and equipment insurance, which is an add-on to their general liability policy. This coverage covers theft and damage to tools and equipment, which is essential for running a roofing business.
Residential roofers can save homeowners a lot of time and hassle by fitting and repairing their roofs properly. A poorly fitted or repaired roof can lead to damage and leaks that can lead to costly repairs and health risks for the occupants of the house. In addition to saving time, local roofers are more familiar with building codes and regulations, which can prevent expensive mistakes that can lead to fines.
Local roofers are also more likely to have a good reputation in the community, which can help them win business from customers who may be reluctant to hire a national company. In addition, they can offer competitive prices because they have lower overhead costs. Local roofers are also more familiar with the weather conditions in their area, which can help them avoid costly mistakes that can result in water damage and other problems.
Unlike commercial roofers, residential roofing contractors work exclusively on homes. They must be able to navigate through residential neighborhoods, access rooftops with ladders or scaffolding, and complete their work without disturbing neighbors. In addition to their technical skills, residential roofers must be able to communicate with homeowners to discuss project details and answer questions.
While the skillset of commercial and residential roofers is different, they both must be able to repair and patch leaks. This is particularly true for shingle roofs, where leaks are often isolated and easy to fix. Leaks in commercial buildings, on the other hand, can be a sign of major problems and require a more extensive repair process.
Residential roofers are also expected to follow environmental guidelines when working on a home, such as reducing energy bills and using eco-friendly materials. This is a great way to show the homeowner that they are invested in their work and care about the environment. They can even provide a warranty for their services, which shows that they are confident in the quality of their work.
Residential roofers must be efficient to meet deadlines and maintain a high level of customer satisfaction. They should be able to complete their work on schedule and stay within budget. They can do this by providing a clear estimate of the cost of the project and establishing a timeline for completion. In addition, they should be able to provide a detailed inspection and address any issues that arise during the installation process.